Rostrevor Mountain Bike Hire
Why Not hire a mountain bike for the Rostrevor Mountain bike trails from Cloughmor Extreme Adventures so grab a few friends and go hit the world famous Mountain bike trails that Rostrevor has to offer. With amazing views across Carlingford Lough from the ever so popular Kodak Corner you certainly won't be disappointed. Rostrevor Mountain bike trails have 27km of red trails and 19km of black trails so plenty of options for the more experienced mountain biker. Not to mention the 2 purpose built downhill trails 'Mega Mission' and 'On The Pulse' with just over 3km of downhill of combined trials Rostrevor Mountain bike trails certainly has it all and widely known as the adventure capital of Ireland.
Our Bikes
Giant Talon 3
From dirt paths to singletrack trails, this aluminium hardtail will get you rolling with its smooth handling and confident control, This lightweight ALUXX aluminium frameset features classic off-road design made specifically for 27.5 wheels to strike just the right balance between control and speed. The hardtail frame is optimised for a 100mm suspension fork, which helps soak up trail obstacles. For aspiring off-road riders looking to climb a little faster and get more comfortable riding singletrack, Talon is your ticket to XC adventures.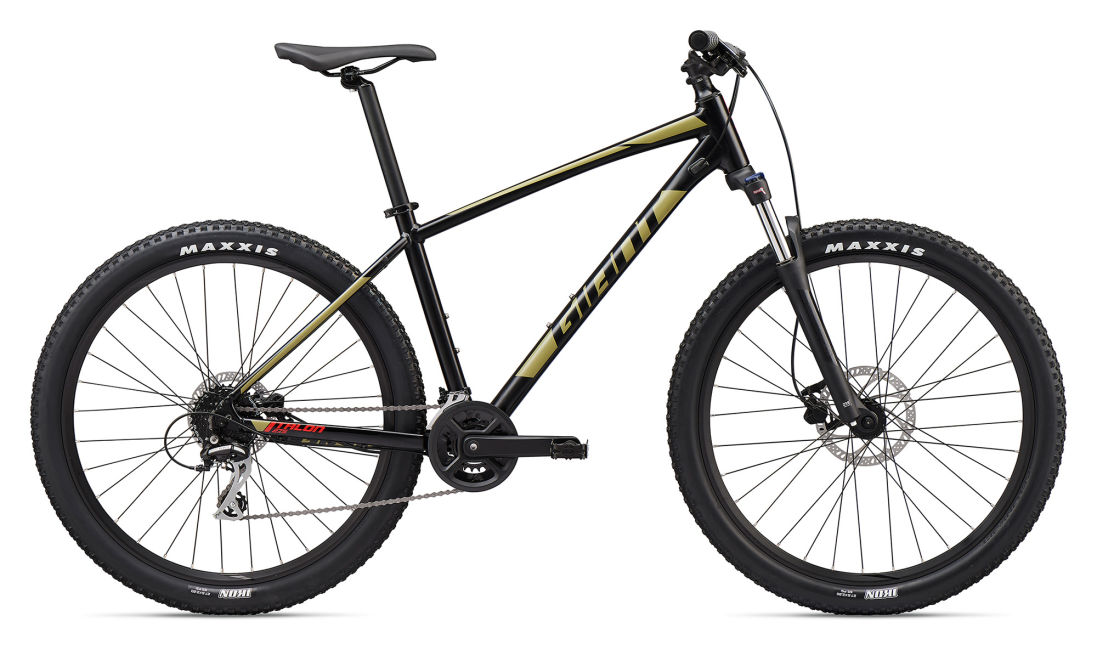 When you factor in a geometry that's going to leave you feeling confident and ready to get after it, it's safe to say that the Giant Talon 3 is the perfect starting point for your life of playing in the dirt on the Rostrevor mountain bike trails.
Tuition and Guiding 
We run a kids mountain bike camp #mudmonkeys every Saturday from 2pm – 3:30pm
Applicable for ages 6+ and costs £6 per person
For more information on our coaching visit http://cloughmorextreme.com/kids-camp/
Book a Group to go Mountain Biking
We cater for all different groups mountain biking; everyone from secondary schools, hen and stag parties, team building days, corporate and sports teams and many more.
In addition to these guided rides on the trails, we also offer one to one coaching sessions.
For more information visit http://cloughmorextreme.com/activities/mountain-biking-coaching/
Bike Sizes available – small , medium and Large (no kids bikes)
Prices/Times
We are open 7 days a week
£30 half day rental (3hrs)  9am – 12pm or 2pm – 5pm (flexible on times 3hrs max)
£40 Full Day rental 9am – 5pm
Price includes – Helmet, Spare tube, tyre levers, Alan keys and pump.
Booking details
If you are thinking of hitting the trails on our hired bikes please try and book in advance as we need enough time to get your bike ready for its next adventure.
Damage control – £30 refundable deposit required for each bike hired on the basis that no damage is done to any bike. If a bike is returned with damage the deposit will be lost. If a spare tube is needed/used we will charge £5 for a replacement tube. We will do a check on each bike before hired out and signed off by both Cloughmor Extreme Staff and Persons hiring bike. (cash only for deposit)
Bike Hire Disclaimer
Credit/debit card and driving licence/Passport will be required to hire a bike as a deposit and will be returned when the bike is left back. Cloughmor Extreme are under no circumstances responsible for any persons riding our hired bikes outside of their own comfort zones and personal capabilities. Our hired bikes go through a safety check every week to ensure your ride is as safe as possible.
PLEASE NOTE: These bikes are NOT to be used on any of the downhill trails and if caught doing so you will loose your deposit and bike will be taken off you on the spot. these bikes are NOT downhill bikes. They are to be used on the Red Trail ONLY,
We can now accept debit/credit cards.
Booking available through the following links or Phone –
Facebook page – https://www.facebook.com/CLOUGHMOR.EXTREME/
Website – http://cloughmorextreme.com/contact/
Telephone – 07706875394